Director of GSAS and Professor, GSAS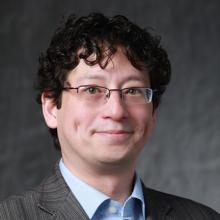 Ben Chang is an electronic artist and director of the Games and Simulation Arts and Sciences (GSAS) Program at RPI. His work explores the intersections of virtual environments and experimental gaming with contemporary media art.  Using materials ranging from immersive visualization systems to modified surveillance cameras, hacked video games, and antique telegraphs, his work brings out the chaotic, human qualities in technological systems. 
As an electronic artist, Chang's own work is at the intersection of virtual environments, experimental gaming, and contemporary media art. "I'm interested in what you could call evocative and poetic experiences within technological systems — creating that powerful experience that you can get from great music, theater, books, and paintings through immersive and interactive simulations as well," says Chang. "But I'm also interested in the experiences of being human – the human qualities that are still there -- within technological systems."
Chang's recent projects include a suite of classic games rewritten for the Microsoft Kinect system, a virtual reality environment about remembrance in memorial of the Holocaust, and "Becoming" a computer-driven video installation that interchanges the attributes of two animated figures.
His installations, performances, and immersive virtual reality environments have been exhibited in numerous venues and festivals worldwide, including Art Basal Miami, Boston CyberArts, SIGGRAPH, the FILE International Electronic Language Festival in Sao Paulo, the Athens MediaTerra Festival, the Wired NextFest, and the Vancouver New Forms Festival, among others. He has designed interactive exhibits for museums such as the Museum of Contemporary Art, Chicago, and the Field Museum of Natural History.